Andrew Wilson & Sons Ltd
Catering Equipment Hirers
By Appointment to Her Majesty The Queen Catering Equipment Hirers
Whatever the occasion, we've got it covered!
Weddings, Hotels, Caterers, Private Parties, Offices & Restaurants, etc. We cater for all occasions and events.
Our stock comprises the complete range of Banqueting Chairs, Tables, Crockery, Cutlery, Silverware, Glassware, Urns, Linen, etc. that you need for your event and are offered in conjunction with our dependable delivery service.
If you are planning to hold an event in your home, you are welcome to call in and view our range of equipment. Our expert advice is at your service and completely free.
All prices quoted are subject to transport charges and VAT at the current standard ruling, and are subject to our terms & conditions of hire.
We can even do the washing for you!
Save yourself the hassle of washing up! Just select the option when you submit your order online or let us know when you place your order by phone.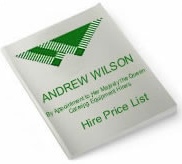 0131-661-8282 / 0131-661-2485
Take a look at some of the events we cater for

View our current brochure. Just click on the brochure link below to download a copy.
You can also place an order for your catering equipment hire using our online order facility.
Click HERE to go to our Online Ordering page.
St. Ann's Mount, 39 Spring Gardens Edinburgh, EH8 8HR